Info

Useful Links
Connect Us








Copyright Inline Solutions Inc. 2017.
All rights reserved.

Straight Shooter C-12 High Speed Continuous Feeder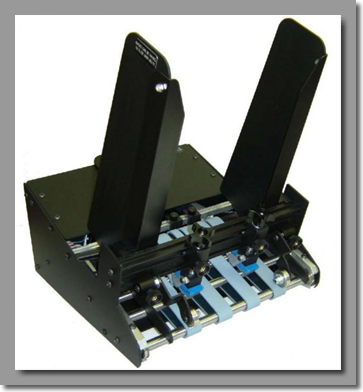 Product Options

Adjustable height floor stand
Table stand
Card option for small media
Single shot and batch models
C-20 for wide documents

Media Handling

Width: 3″ minimum up to 12″ maximum
Length: 2″ minimum up to 17″ maximum
Thickness: Single sheet up to 3/8″ thick
Speeds: Up to 40,000 postcards per hour

Power
120 vac, 5 amp standard (240 optional)
Available interlocks

Dry contact
12 vdc
24 vdc
24 vac
Others upon request

Dimensions 15′ wide x 17″ long

Weight 35lbs.

Features

Solid, heavy-duty paper guides that extend all the way through the feeder
Repositionable feed belts - lets you customize the feeder for every piece
Independently adjustable separators - as many as you like
All belts that can be replaced in minutes
Heavy duty shafts and bearings for long life
Four high friction feed belts and three traction belts for additional friction
Use as many separators and belts as each job requires
Completely tool-less setup
Clean, uncluttered design - easy to set up, easy to move, easy to service


Solutions Provider for the Printing Industry, Mailing Industry and Packaging Industry