JL Custom 24" Wide RA Unit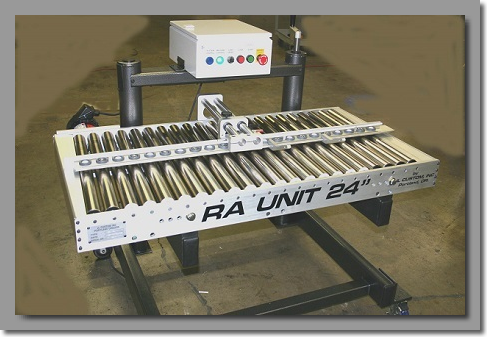 SPECIFICATIONS:

WIDTH 24" INSIDE TO INSIDE

LENGTH 48" OVERALL

HEIGHT MINIMUM 26"

MAXIMUM 32"

POWER: 110VAC OR 220 SINGLE PHASE

MOTOR 90VDC OR 180VDC

"CONTROL POWER 24VDC WITH NO INTERGRATION

HEAVY DUTY CHASSIS CONSTRUCTION

2 X 4 SQ TUBING WITH HEAVY DUTY TOWERS

ROLLERS ARE OD GROUND AND NICKEL PLATED

STEEL AND PLASTIC MARBLES

FULL ADJUSTABLE GUIDE WITH TILT

SWIVEL CASTERS (TWO WITH LOCKS)

Purpose; For the paper converting industries to transfer product at 90º from the flow or as a jump transfer from one machine to a 2nd operation machine.

Info

Useful Links
Connect Us








Copyright Inline Solutions Inc. 2017.
All rights reserved.

<span id="siteseal"><script async type="text/javascript" src="https://seal.godaddy.com/getSeal?sealID=hnn8UUwE4Y3ov1UisCMVgwSyAXjGCGEeXQ3bpiXKyl28v6xk0Qi3kJUATT3e"></script></span>


Solutions Provider for the Printing Industry, Mailing Industry and Packaging Industry