MFT 350IP
Info

Useful Links
Connect Us








Copyright Inline Solutions Inc. 2017.
All rights reserved.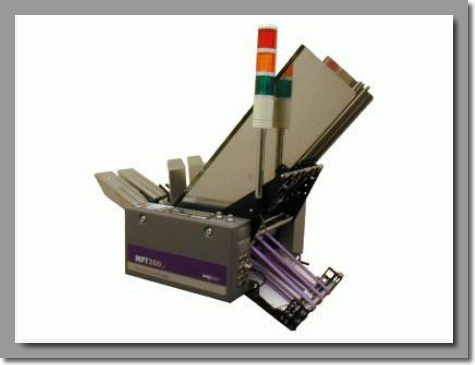 Typical Applications

Copy Paper
Stationery
Signatures
Resume Paper
Envelopes
And many more…

Specifications

Minimum product size: 25mm(W) x 38mm(L) [1" x 1.5"]
Maximum product size: 300mm(W) x 400mm(L) [12" x 16"]
Minimum product thickness: 0.05mm [0.002"]
Maximum product thickness: 27mm [1"]
Maximum belt speed: 211,000 mm/min [8300 in/min]
Operating temperature: 10-35 Degrees C [50-95 Degrees F]
Power requirements: 110 (230) volts 50-60 HZ max 6 amps
Total unit weight: 32 kg [70 lbs]
Product magazine: 380mm [15"]
Feeder discharge: Five standard lengths

Standard Features

Portable unit: Self-contained unit with only one electrical enclosure
Computer controlled: Computer control provides thousands of control calculations per second for precise start, stop, watch dog and multiple product detection
Easy interface: Standard signals available for easy interface with existing computer, PLC or other host machinery
Production log: Automatically stores your production history in the feeder's computer with production count, and fault logging with time, date and type of fault
Intuitive user interface: Custom 22-key sealed membrane key pad with 2 x 40 character LCD display
User-friendly changeover: Easy and accurate changeover with twist lock handles
Ruggedly built: Hardened stainless steel shafts and sealed bearings for maximum life and 24-hour a day operation
Quick belt replacement: Three piece shaft assemblies for quick maintenance
Three-color signal light: Green = ready, Yellow = low product, Red = fault
Pre-select counter: Standard pre-select product count (1-999 per cycle)
Optically isolated signals: All interface signals isolated for accuracy
Built for harsh environments: Stainless steel shafts, sealed bearings, surface-treated aluminum construction and sealed cast aluminum enclosures to protect internal parts
One year warranty: One year warranty on parts and labor
Software Lockout Function Option: Allows user to lock out some or all feeder functions for simplicity for the operator.
Encoder Speed Match Option: Allows for an input from an encoder connected directly to the feeder to monitor the speed of the host machine. The feeder will monitor the speed of the host machine and adjust its timing accordingly.


Solutions Provider for the Printing Industry, Mailing Industry and Packaging Industry