Info

Useful Links
Connect Us








Copyright Inline Solutions Inc. 2017.
All rights reserved.

BAUM 20 AutoSet Continuous Feed Folder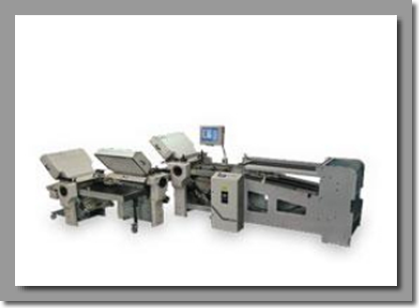 Features
Capable of storing up to 100 user-defined jobs in memory
Color coding and page number notation for impositions shown on screen
30 pre-programmed folding impositions
Video demonstrations for most applications using "See How" feature
Setup task list to monitor progress
Folder production calculator using touch screen
Total and production rate viewing using extra large display on screen
Four languages to choose from for instruction, English, French German, Spanish
English inches, decimals, fractions, or metric numerical display
On-screen parts manuals for folder
User defined maintenance scheduler with alerts
Troubleshooting of common folding problems on screen
On screen notes can be added and saved for each job
15 inch diagonal industrial touch screen computer
Patented front blow design
Positive, non-slip, helical gear drive
Built-in batch and total counter
Exclusive adjustable, removable slitter shafts
Combination folding rollers
Sealed ball bearings
Computerized sheet gap control
Diagnostic messages displayed

BAUM 20 AutoSet Cont.


AutoSet combines the information of the Baum ifold with automation to provide an affordable and informative solution for your folding applications. AutoSet improves your folding capability, productivity, and is a full-time aid to all of your folding questions.

Specifications:

Maximum Sheet Size: 20.5 x 33 in. (52 x 84cm)
Minimum Sheet Size: 4 x 6 in (10.16 x 15.24 cm)
Electrics: 220/3/60 or 380-415/3/50
Maximum Folder Speed: 8200 Inches per min (208.3 m/min)


Solutions Provider for the Printing Industry, Mailing Industry and Packaging Industry